Earlier this summer, I'd heard about Double Bluff Beach, which is about one mile south of the small town of Freeland, Washington, and part of Island County Parks. It was described to me as an off-leash dog beach, a huge sandbox and a great place to play in the water, which got warm because Useless Bay was shallow for long stretches.
There was no mention of the plethora of beach forts, which is what struck me the most. I've since dubbed it the Birthplace of Beach Forts.
VisitWhidbey.com says this is South Whidbey's best public beach. I've only been to a handful of other Whidbey Island beaches, and at this point, I'd have to agree.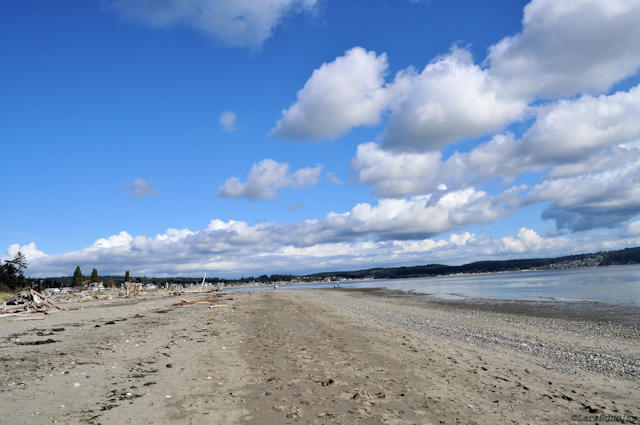 Six Reasons to Visit Double Bluff Beach
The beach is two miles long and flat, which means it's easy to walk and find shells, rocks (agate and jade) or go clamming.

The sand and the abundance of drift logs make it a kid and kid-at-heart playground. Who doesn't want to play in the sand or build a sea fort? It is also a favorite spot for kite-boarding.

The beach faces Puget Sound, and big ships and freighters pass by all day. And, on a clear day, you can see Seattle and Mt. Rainier, as well as, the Olympic Peninsula.

Herons, eagles and Peregrine falcons are frequent visitors, and I've heard an occasional gray whale will make an appearance in spring.

Dog owners can let their dogs run off-leash. 

On the far end of the beach layered geological strata can be seen in the 200-foot bluff.
 
Six Reasons to Visit Double Bluff Beach
It's important when visiting any Pacific Northwest beach to be aware of the tides. If you are unsure if it is coming in or out, ask a local. The only downside to the park is the small parking lot and picnic area, which can fill up quickly. The day I was there, there were only a couple of parking spots open.
Directions: Double Bluff Beach is about one mile from the small town of Freeland. From Highway 525 turn onto Double Bluff Road and follow it to the end.